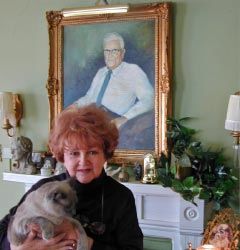 ABOUT THE ARTIST
Alice Rockwell is a full-time professional artist and art teacher whose career has encompassed a wide variety of art-related fields of endeavor. Alice has worked as a commercial artist; taught art in private school; painted innumerable portraits of people and pets; created delightful seasonal scenes for wood crafters' sleds, baskets, and other creations; continues to teach students of all ages at various centers and from her home studio near Shippensburg, Pennsylvania; and, maintains a thriving business selling an eclectic blend of prints.

She has displayed her work at various shows, public centers, galleries, and retail establishments. Her work includes lighthouses, landscapes, seascapes, Amish, rural scenes, and a variety of animals. While she is partial to Siamese cats, which she bred for a number of years, she has an extensive collection of other members of the feline family, dogs, and horses. She has an exhaustive inventory of lighthouses of all types and plans to write and illustrate a book about screw-pile lighthouses, which were popular on the Chesapeake Bay, where her grandfather was an oysterman. Her lighthouse prints are sold at various locations around the Bay.

Alice works in various media including oils, pastels, watercolor, and colored pencil.

She is a member of the York Art Association, the Carlisle Art Association, and the Chambersburg Art Alliance.